Report
Global Astronomy Month 2016: Capture the exquisiteness of the night sky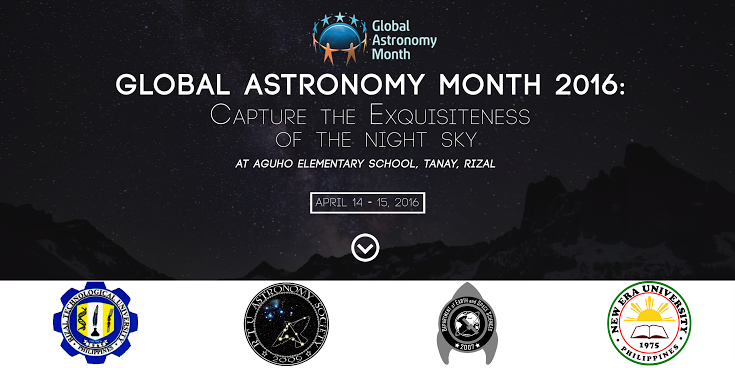 The Department of Earth and Space Sciences celebrated the Global Astronomy Month 2016 with a theme of "Capture the exquisiteness of the night sky" last April 14, 2016 held at Aguho Elementary School, Barangay Sampaloc, Tanay, Rizal. In lined with this, the officers of the RTU – Astronomy Society organized an astrophotography competition. The said event was participated by astronomy students and faculty of both Rizal Technological University and New Era University.
Global Astronomy Month is celebrated every April by astronomers worldwide. The event was done to commemorate that we are one people under one sky. It brings ideas to promote unified philosophy to appreciate the cosmos.
The astrophotography competition was a success with a total of 15 constestants coming from both RTU and NEU astronomy students. The constestants are required to capture an image of five astronomical categories including planets, moon, constellation, deep sky and landscape. The winners of the astrophotography competition are the following: Jeroh Hiyastro (Champion), Chenel Dominguez (2nd place) and Margareth Custodio (3rd place). The RTU-Astronomy Society is looking forward in conducting more mindful and fruitful events. Such follow up activities are astronomy related projects on following months on dates which will be known on the succeeding days due to unexpected weather disturbances.
Writer: Xyrene Freda Angeles
You need to be logged in to leave a comment
About Me
Currently Studying BS Astronomy Technology in Rizal Technological University, Philippines. Proud member of RTU -Astronomy Society, an organization promoting and spreading awareness about astronomy.
Contact
Location:
San Pedro, Laguna
Philippines (the)
Social Media:
Facebook