Go to Lance Page's Part II - Ride the Sky
Part I: Introduction:
Hi there, I'm Lance Page. I'm a filmmaker and photographer specializing in time-lapse with an emphasis on astro-photography work. I was fortunate enough to have been born and raised in one of the most unique places on the planet, the Big Island of Hawaii. I grew up on a Kona coffee farm on the slopes of the massive Mauna Loa Volcano which neighbors Mauna Kea and Kilauea. I'll get into those insanely unique and mind blowing locations in upcoming posts but for now I want to introduce my work and also discuss the medium of time-lapse photography as it developed in my life. I've been creating videos since junior high but as of the last several years I've been experimenting with time-lapse photography using modern digital cameras combined with motorized motion control gear. I wouldn't consider myself an astronomer but astro-photography is surely one of my true passions.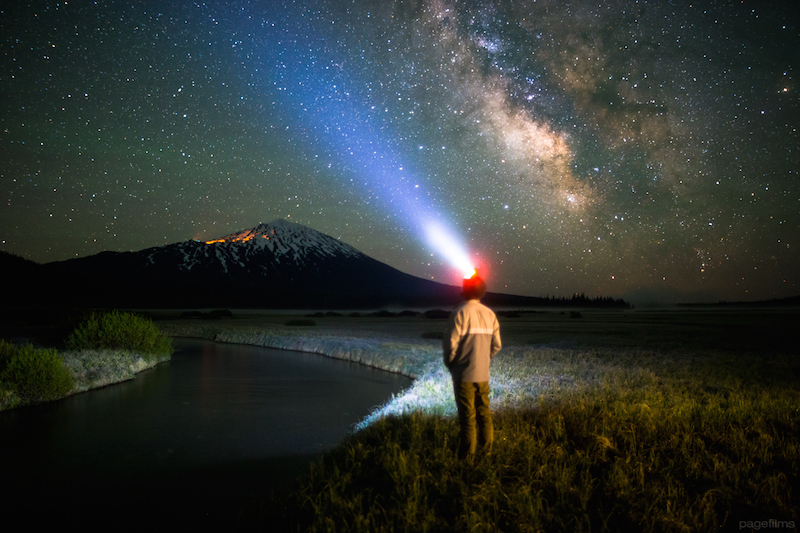 Astro-selfie at Soda Creek with Mount Bachelor and the Milky Way, Cascade Lakes, OR.
Since moving to the mainland I've created a number of short films using time-lapse to drive the viewers attention through each frame and to illustrate a certain location or mood. After producing my first time-lapse project in 2011, 'Portland Nights' which ended up on the evening news and with online views in the tens of thousands within days, I realized the potential time-lapse has with an online audience. Viewers just couldn't get enough of the mesmerizing visual effect of motion control combined with the high quality image sequences that DSLR cameras are able to capture.
'Portland Nights' was a project that allowed me to learn my gear and to get a basic understanding of time-lapse photography using motorized gear. I used Dynamic Perception's Stage Zero rig to move the camera slowly over time creating a smooth cinematic effect. This technique is widely used today but in 2011 motion control time-lapse seemed to be a newly accessible tool for low budget productions and solo shooters. As the popularity of the medium grew, I continued to create these short films with the goal of bringing them to the next level in terms of time-lapse innovation and artistic integrity.


Capturing urban motion control time-lapse in Portland, OR.
With my follow up Portland time-lapse project 'Weathering Spring', I came up with the concept of applying a "handheld" look to the footage in addition to the motion control to achieve a less grounded feel. I also used a telescope head that allowed for panning and tilting to make it a three-axis rig. I moved the camera around using the motors in a way that mimicked someone holding the camera and filming in real time once the shaky effect was applied in post production. The result was a success, people ate it up and once again the video had a large online audience in a very short amount of time.
Around this time I started to discover astro photography and astro time-lapse out in the mountains in the Pacific Northwest. Shortly after moving to San Diego, I went on a ten day adventure south into Baja, MX with my uncle and friends. I brought all my gear and I spent most of the time hiking around and capturing time-lapse content. It's hard to explain the ecstatic feeling of capturing a beautiful sequence after scouting, planning, rigging and shooting. With time-lapse you never really know what you'll get, it's basically an art of predicting the future with educated guesses. And when you add a bunch more variables to the mix it becomes even more difficult. Things such as the speed the camera is sliding down the rail and/or panning/tilting, exposure value throughout your sequence and overall quality of your compositions can make or break a sequence along with a whole slew of other things. Unlike still photography, time-lapse requires you to commit to a sequence for a long period of time, sometimes for hours or even days. So preparation is most important because once you hit the go button it's really just a matter of luck from there.

Various desert time-lapse set ups using a three-axis rig in Baja, MX.
We had night after night of clear skies so I had some great opportunities to experiment with astro-photography. Eventually I collaborated with my brother Troy Page on a music video project for our friend and colleague Trevor Green. We used astro time-lapse footage Troy and I both captured in Baja. The video mixes together the time-lapse medium with the music video genre by visually blending the two together. It contains some of my earliest astro time-lapse work and further expanded my interest and excitement for experimenting with time-lapse. Check out our video for 'Lonesome Road' by Trevor Green.
It occurred to me that the night sky was my favorite thing to photograph. To me, being out under the stars is one of life's greatest gifts. Staring at the stars allows us to literally peer into the past with our own eyes. So even before I set up the camera, my mind is already opened. I already feel more connected and I'm already gaining new perspectives. Then I start exposing what I see onto my camera sensor. What ends up on the back of my DSLR preview screen sometimes provokes a literal gasp of disbelief. It's a feeling only astro-photographers will understand. Modern camera technology allows us to expose more of the night sky than our eyes can see so we often don't even notice the key elements of the photograph until an exposure is taken. This is one of the most exciting things about astro-photography and as I became more and more addicted to it I started to come up with new techniques and ideas.
My next project would be immersed in the astro time-lapse realm and would go on to reach hundreds of thousands of viewers around the world and continued to push the boundaries of astro time-lapse. In part two I'll explain how my film 'Ride the Sky' came about and how it really solidified my love for the art of astro photography.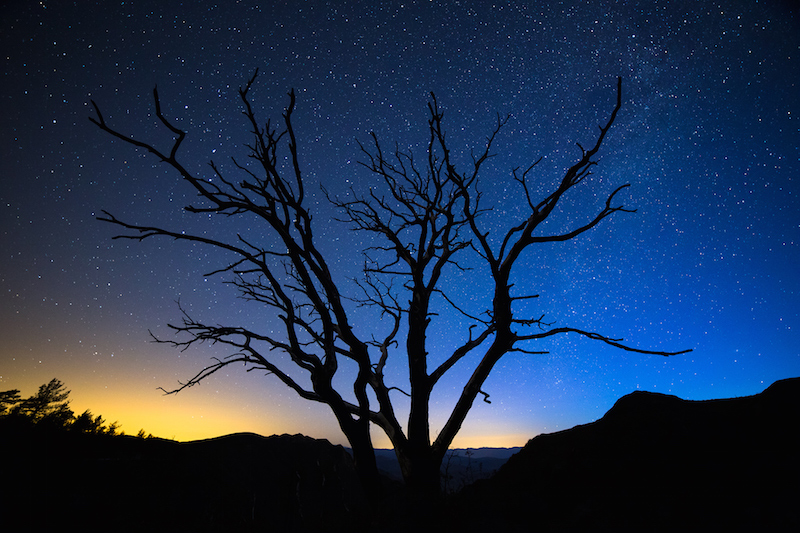 My favorite tree at Mt. Laguna, where I'd go on to produce my next project 'Ride the Sky'.
Go to Lance Page's Part II - Ride the Sky
You need to be logged in to leave a comment