Say Hello to the Red Planet!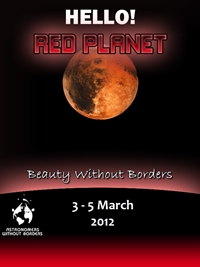 Poster Credit: Thishan Pavithra (Download the poster here)
Mars will come into Opposition on March 3, 2012 in the constellation Leo with its face fully illuminated by the Sun and two days later, on March 5, 2012, the planet will have its closest approach to Earth during this apparition: 100.78 million km (0.6737 AU)—the best time to say "Hello" to the Red Planet.

Mars Oppositions occur when planet Earth, on its smaller orbit inside that of Mars, passes exactly between the Sun and the Red Planet.  Because of the different sizes of the two orbits, this occurs about every 2 years and 2 months.  During the last opposition, AWB—in collaboration with Sidewalk Astronomers—held the first edition of the "BwB: Hello Red Planet" event, with the participation of groups from 21 countries.
We are calling again all the amateur/professional groups out there to get together to enjoy the beautiful views of the red planet.


When:
During 3-5 March 2012


Participate:
Hold an observing night with your local astronomy group or do a backyard astronomy session with your family and friends. Take your scope to the street for a "guerilla-astronomy" session.


Connect:
Join the conversation with other groups around the world on Twitter @awb_org using #HelloMars hashtag. Post your images on our Flickr or Facebook page.


LIVE webstreams:
In case of bad weather you can catch LIVE webstreams from;
- SLOOH Mars opposition webstream on Saturday, March 3, starting at 04:00 UT
- SPACE India will be doing a webcast on Saturday, March 3 from 7:30 to 9:30pm IST


Resources:
Mars Opposition information
Stallarium - free astronomy software