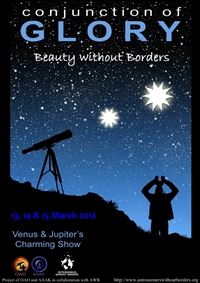 Poster Credit: Azhy Hasan (Download the poster here)
Venus and Jupiter, the two brightest planets in the sky, will be within 3 degrees of each other in the evening sky of 15 March 2012 at 10:37:46 UTC. This will be quite a spectacle, as both planets are very bright—and this will be a fantastic visual and photographic opportunity, as it's not often that you get the brightest planets in our Solar System so close together.

The next Venus-Jupiter conjunction after this one falls on May 28, 2013. Although Venus and Jupiter will be closer together on the sky's dome during that conjunction, they won't be as spectacular then as they are this month. That's because, in May 2013, the two planets will set only about two hours after the sun (at mid-northern latitudes).




In collaboration with Amateur Astronomers Association of Kurdistan & Opportunity Astronomical Observatory (Iraq), presents "Beauty without Borders: Conjunction of Glory".
We are calling all the amateur/professional groups out there to get together to enjoy the beautiful views. Don't forget your camera; this will be a great time to do some astrophotography. And if the beauty of the conjunction puts you in a poetic mood, send your thoughts to our Astropoetry Blog: astropoetry@astronomerswithoutborders.org


When:
13 - 15 March 2012

Participate:
Hold an observing night with your local astronomy group or do a backyard astronomy session with your family and friend. Take your scope to the street for a "guerilla-astronomy" session.


Connect:
Join the conversation on Twitter @awb_org using #VenusJupiter with other groups around the world. Post your images on our Flickr or Facebook page.


LIVE webstreams:
Tour the Planets: Jupter and Venus Conjunction Live Chat by NASA on 25 March 2012


Resources:
Venus-Jupiter Conjunction information
Stallarium - free astronomy software