Report
As every year, in the month of August, we have the classic "Perseids", a stream of meteors that is produced by combustion in the atmosphere of dust and rockery from the tail of comet 109P / Swift-Tuttle, whose radiant is found in the constellation Perseus, hence its name.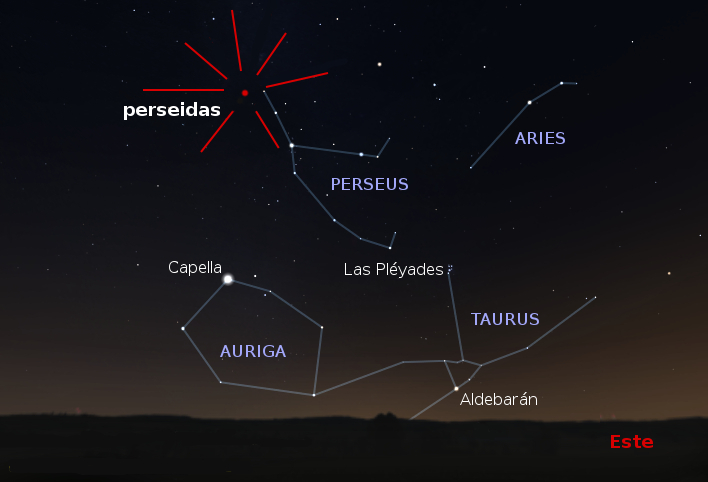 Graph made with Stellarium

From July 17 to August 24, the Earth will be crossing this area of ​​debris deposited by the comet, but the night of 12 to 13, between 23h and 5h, will be when you can enjoy more, since it will reach its maximum THZ with 100 meteors per hour.
If last year was one of the best nights to observe the Perseids by the New phase of the Moon, the opposite is true this year, since the Moon will be present on the dates close to the maximum, with a phase close to fullness, so it will make the observation of meteors quite difficult, saving the brightest.

Large instruments are not required for observation, rather none, the meteors are sporadic and can come from any area of ​​the sky. The best for tonight: a sunbed and good company.
The Perseids will not be alone, since other active radiants are found by the same dates:
The Delta-Aquaridas, active from July 12 to August 23, with maximum intensity on nights from July 29 to 30, with a THZ close to 25.
The Alfa-Capricornids are active from July 3 to August 15, the maximum splendor being the night of July 29 to 30 with a somewhat poor THZ, about 5 meteors per hour.
The Cygnidas will be active from August 3 to 25, with the night from 17 to 18 the best squawking to see a very poor THZ of 3 meteors per hour.
You need to be logged in to leave a comment