Report
"In Flight Call" to ISS at AEC-Linz
Following a short report and some images from yesterday's event at Ars Electronica Center (AEC) Linz / AUSTRIA
AEC is collaborating directly with ESA (European Space Agency) and holds the role beeing an official european-space-education-ressource-office called ESERO. I reported about that already last year.
On Monday 4 December, teachers and students from the Czech Republic, Austria, Finland, and Italy have been connected live by video connection with ESA astronaut Paolo Nespoli, currently living and working on the International Space Station (ISS). Teachers and students have been asking questions directly to Paolo Nespoli about the challenges and adventures of living in space.
In addition to the In Flight Call, there has been an exciting presentation about the universe in the 3D, 8K Deep Space of the Ars Electronica Center, as well as the opportunity to get to know ESA teaching materials. For example a workshop presenting ESA's Astro PI Kit to develop programs and experiments to load up the program code to ISS, where the identically constructed hard&software is in space. Teachers and students can collect datas in space to analyze them later on earth.
I had the pleasure to take part in this interesting afternoon and I had the opportunity to present astronomy in general and of course our local astronomy club to the participants.
Best regards from " Keplertown Linz"
J O H A N N E S S T U E B L E R
Ambassador and National Coordinator AUSTRIA
of Astronomers Without Borders - AWB
http://www.astronomerswithoutborders.org
TWAN-Austria event coordinator
http://www.twanight.org
National Organizer Sidewalk Astronomers
http://www.sidewalkastronomers.us
Member of LAG - Astronomical Society of Linz
http://www.sternwarte.at
Fellow of the Royal Astronomical Society
http://www.ras.org.uk/
Charter member of A4E - Astronomy for Education
http://www.virtuelleschule.at/a4e
Associate of the IAU Division Commission C2
http://iau.org/administration/membership/associate/15957/
Consulter - Project "Keplarium"
http://johannes_stuebler.public1.linz.at/keplarium/keplarium_en.html
About me:
http://johannes_stuebler.public1.linz.at/autor.html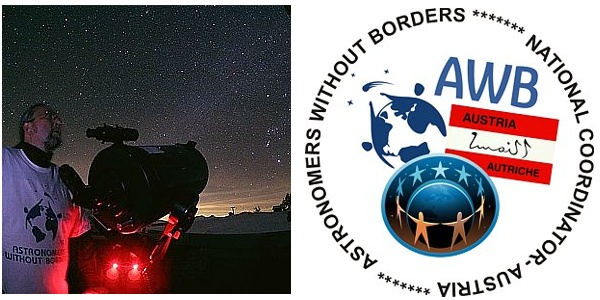 You need to be logged in to leave a comment
About Me
Something more about me HERE: http://www.astronomerswithoutborders.org/national-coordinator-spotlight/29-about-awb/organization/1062-nc-spotlight-joe-stuebler.html