For GAM 2012 use the menu on the right side below
Global Astronomy Month 2012
by
Mike Simmons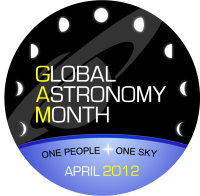 Global Astronomy Month 2012 is over!
Global Astronomy Month (GAM) each April is the world's largest global celebration of astronomy since the unprecedented International Year of Astronomy 2009.
GAM 2012 brought new ideas and new opportunities, again bringing enthusiasts together worldwide to celebrate Astronomers Without Borders motto One People, One Sky.
See below for programs and news from the big month, and updates on event reports, participation certificates, and other GAM-related news.
Read reports on GAM 2012 events from around the world.